Storytelling, Online Coaching
iikonz' Online Coaching Programs
Peek-a-Book (4 to 6 years)
Our Peek-a-Book program introduces your kid to the magical world of books. This is a storytelling- and phonics-based, online coaching program for little readers of ages 4 to 6 years. Our engaging storytelling sessions and phonics coaching makes it easy and fun for them to learn the basics of the English language like letters, spellings, and pronunciations.
Why Peek-a-Book?
Builds confidence

Vocabulary building

Mastering spelling

Encourages reading as a habit
Duration: 3 months | 25 sessions (3 sessions a week)
Grow Minds (7 to 10 years)
The main focus of the Grow Minds program is value education and social-emotional learning, which helps develop children's character and self awareness. This also helps them understand the world around them better and have empathy for others. The Grow Minds program aims at improving children's reading, creative writing, communication and public skills through storytelling, theatre, and other confidence-building activities based on each child's specific needs.
Why Grow Minds?
Improves reading skills

Develops creative writing skills

Improves communication and public speaking skills

Develops social-emotional learning

Child gets individual attention as batch size is limited to 4 students
Duration: 5 months | 78 sessions (3 sessions a week)
Module-wise breakup of sessions:
English Grammar: 32 sessions 

Public Speaking and Creative Writing: 30 sessions

Social-Emotional Learning: 16 sessions
Highlights of the Peek-a-Book and Grow Minds Programs
Well qualified, experienced class tutors

Monthly meetings with parents to discuss child's progress

Monthly reports marking student's progress and area of improvement, along with tips on improvement

Fun-way of learning through interactive activities and quizzes

General knowledge is part of the curriculum to help

children develop

a perspective about the world

Learning and assessment methods are based on Bloom's Taxonomy
Learning Through Activities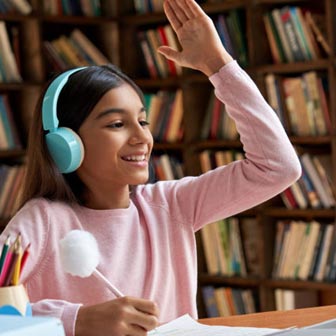 Ignite Minds (11 to 14 years)
Ignite Minds, the ultimate online life skills coaching program for tweens and teens, equips youngsters to handle the challenges present in today's fast-paced, competitive world. This program boosts their confidence and eliminates public speaking fear and nervousness.  It enhances kids' speech delivery and presentation skills.
Our trainers help kids and teenagers develop public awareness, and teach them how to decode verbal and non-verbal signs. We nurture and enhance their leadership skills like taking initiatives, decision making, and critical thinking along with essential life skills like teamwork, assertiveness, handling peer pressure and bullies, and empathy. 
Our Ignite Minds coaches train pre-teens and teens to develop the skills needed to succeed in any field—problem-solving, positive thinking, focus and concentration, interpersonal skills, social etiquette, and pleasing mannerisms.
Apart from the benefits discussed above, Ignite Minds trains children and teenagers the most needed life skill in today's overly competitive world, that of managing one's emotions. Our coaches teach you techniques of stress-, conflict-, and anger management to help look after your mental health.
Our programs offer career counseling and guidance as a part of the program.
Why Ignite Minds?
Creates self and public awareness builds confidence

Nurtures leadership and followership skills

Develops communication and public speaking skills

Improves interpersonal skills with special emphasis on emotional intelligence

Promotes mental health with stress-, conflict-, and anger-management

Career counseling and guidance
Duration: 1 year | 48 sessions
4 modules of 12 sessions each, covered in 3 months:
Interpersonal-skills, introduction to Public Speaking, and Building Confidence

Performances by Students, Story Making and Creative Writing

Emotional Intelligence and Life Skills Through Storytelling and Theatre 

Career Counseling and Coaching, Personality Development
Highlights of the Ignite Minds Program
Tutoring by Priya Subramaniam, a certified career analyst, professional storyteller, and a theatre practitioner

General knowledge is part of the curriculum to help children develop

a perspective about the world

Buddy system to enable kids to monitor and help each other

Certificates and medals for best performers in each module

Quizzes at the end of every session to check for understanding